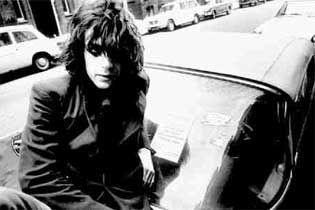 Syd Barrett, the "crazy diamond" guitarist who shaped the early Pink Floyd psychedelic sound, has died nearly 40 years after becoming one of rock music's most dramatic casualties.
He turned into a recluse after an LSD-induced breakdown and in recent years suffered from complications due to diabetes.
After becoming severely ill last week, Barrett was admitted to Addenbrooke's hospital, Cambridge. He was discharged on Thursday and died the following day at his home, in St Margaret's Square, which he shared with his mother until she died a few years ago. He was 60.
His brother, Alan, said: "He died peacefully at home. There will be a private family funeral in the next few days."
Barrett walked away from fame as a cult figure, vanishing behind the blinds of his mother's semi-detached house, preferring to tend his garden, visit Sainsbury's on a bike and mutter inanities to unwelcome visitors.
Barrett reportedly entered a mental home at one stage, and latterly always avoided anybody who called on him. Wearing only his underpants he met his biographer Tim Willis at his front door and said: "I'm just looking after this place for the moment. I'm not going to stay here forever."
However, he is thought to have left a fortune. David Gilmour, drafted in to Pink Floyd during a period in which Barrett was behaving erratically, made sure that royalties on his compositions flowed steadily into his bank account.
Even though he was only with the band for its first three years and appeared on just one album, Piper At The Gates of Dawn, Barrett's quarterly income was still into seven figures. Friends said he was happy never to mention his cult status, adding that he was neither poor nor sad.
Rock stars paid tribute to him last night. David Bowie described Barrett as a "major inspiration", saying: "I can't tell you how sad I feel.
"The few times I saw him perform in London at UFO and the Marquee clubs during the 1960s will forever be etched in my mind. He was so charismatic and such a startlingly original songwriter. His impact on my thinking was enormous. A major regret is that I never got to know him. A diamond indeed."
A statement from Pink Floyd said: "The band are naturally very upset and sad to learn of Syd's death. He was the guiding light of the early band line-up and leaves a legacy which continues to inspire."
BBC's Radio Cambridgeshire played the Floyd's Wish You Were Here, with its opening lyric, "So, so you think you can tell Heaven from Hell, blue skies from pain". The recording, in 1975, was the last time the band saw Barrett.
He ambled into the studio to listen and, initially, nobody recognised him, as the former 9st guitarist had become a shambolic, 16st balding man.
At first, Pink Floyd was Syd's band, made in his image, and making singular music with its quintessentially English take on psychedelia. But the feeling is that Barrett was a fragile figure from the first, and LSD, with its increasingly uncontrollable trips, put him over the edge.
Gilmour said he thought that Barrett's breakdown was always on the cards. "It was a deep-rooted thing. But I'll say the psychedelic experience might well have acted as a catalyst.
I just don't think he could deal with the vision of success and all the things that went with it."
Joe Boyd, his first producer, said: "It is a very sad and lonely tale. With the band and him, you had the feeling you were in the presence of people who were a soundtrack of a revolutionary period. I don't know what Swinging London would have been without him."
The Daily Telegraph
(source)