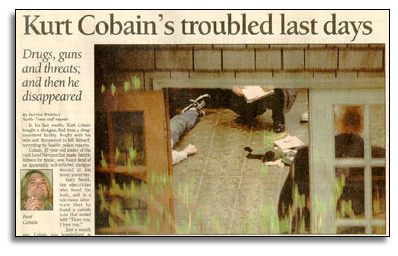 Maybe some of you guys wondering why did

Kurt Cobain killed him self.
I meant he is a real gift; he has the fame, money and everything.

Why he chose to end up his life in such a terrible way?
There must be something in his life that we (as a fans) have no idea about.
So I decided to do some research about his dead,
Referenced to some article, death pictures, and some strange facts, I try to put everything I found in one article. So keep reading!
Kurt Cobain commits suicide in 1994; Gary Smith, an electrician who was about to installing g a security system in the suburban house, discovered His body inside his home in Seattle. Gary found Cobain's body three days after he killed him self.
Cobain's depression began to be noticed by public when he was in Italy the previous month. He went into a coma and nearly died after mixing champagne and the drug Rohypnol. However, since Cobain had a well-known problem with the drug, public was led to believe that the coma was stimulated by an accidental heroin overdose.
Back at home in Seattle, the police were called to Cobain and Love's home when he threatened to kill himself. As his wife and friends watched him spin out of control they tried to help Cobain, but Cobain mostly ignored their concerns. However, he still unenthusiastically checked into a rehabilitation clinic in Los Angeles at the end of March.
On March 30, Cobain walked away from the clinic without telling his family or friends. For the next few days, Love could not locate him and she decided to hire a private detective on April 3. The detective made contact with Cobain the following day in Seattle, but Cobain refused to return to Los Angeles.
In the meantime, Cobain had convinced a friend to buy him a gun; he told his friend that he needed it for protection. On April 5, finally Cobain returned home. He had consumed Valium and heroin to reach near-fatal levels. In the apartment above the garage was Cobain's chaotically written suicide note, he even quoting Neil Young's lyric that it is "better to burn out than to fade away."
Despite hints that Cobain killed himself, several doubters questioned the conditions of his death and accused his wife, Courtney Love to be responsibility for it
There are two books that already been published to the public about the strangeness of Cobain and Courtney's relationship, One is about Love's estranged father, and the other one is a nationally released documentary, Kurt & Courtney.

Both of them openly expressed doubt that Cobain killed himself and all but blamed Love of having her husband killed.
Her unbalanced reputation and bunch list of enemies helped to spread the rumors. However, police have decided that Cobain's death was purely because of suicide.
Read all the hidden facts about Kurt Cobain suicide that Ive found in the Internet in my second other post!
(Courtney love, Kurt Cobain credit card, and the fact that… there was no suicide note!)